Newly developed Weapon Auras (Nath), 4th Staff Aura (Nath) and Five-Six New Magic Skins. Also, 6th Aura and Summons Belt / F11 icons. (6th Aura and Summons files have been included. Example magic and special table data included.

New_auras_and_magic_Nath

Image Previews

Some Magic Previews and 4th Staff Auras (Nath)

A few 7th Auras (Nath)
; Human New Spells - 152 Plasma Ball {Blue - 130 Int} 400k barr, 153 Ice Explosion {White - 140 Int} 500k barr, 154 Lightning Strike {Black - 140 Int} 500k barr, 151 Fire Storm {Blue - 160 Int} 500k barr
;NPC Event
EVENT 170
A CHECK_HUMAN
E SELECT_MSG 3972 3973 171 4012 160 4014 162 4016 164
E RETURN
END

EVENT 171
A INT 130 1000
E RUN_EVENT 173
END

EVENT 172
E MESSAGE_NONE 3713
END

;Plasma Ball
EVENT 173
A GOLD 400000 -1
E ROB_GOLD 400000
E MESSAGE_NONE 3974
E GIVE_MAGIC 152
E SHOW_MAGIC 89
E RETURN
END

EVENT 160
A INT 140 1000
A MORAL 70 101
E RUN_EVENT 161
END

;Ice Explosion
EVENT 161
A GOLD 500000 -1
E ROB_GOLD 500000
E MESSAGE_NONE 4013
E GIVE_MAGIC 153
E SHOW_MAGIC 89
E RETURN
END

EVENT 162
A INT 140 1000
A MORAL -100 -70
E RUN_EVENT 163
END

;Lightning Strike
EVENT 163
A GOLD 500000 -1
E ROB_GOLD 500000
E MESSAGE_NONE 4015
E GIVE_MAGIC 154
E SHOW_MAGIC 89
E RETURN
END

EVENT 164
A INT 160 1000
A MORAL 70 101
E RUN_EVENT 165
END

;Fire Storm
EVENT 165
A GOLD 500000 -1
E ROB_GOLD 500000
E MESSAGE_NONE 4017
E GIVE_MAGIC 151
E SHOW_MAGIC 89
E RETURN
END

Updates to the magic table
151 1 Fire Storm 1 1 940 3 60 1 6 0 65 0 0 50 100 130 -100 100 Fire Storm 0 100 100 6
152 1 Plasma Ball 1 1 1000 5 40 1 6 0 66 0 0 40 100 110 -100 100 Plasma Ball Strike 0 100 100 6
153 2 Ice Explosion 1 1 1000 5 45 1 5 0 70 0 0 40 100 120 45 100 Ice Explosion 0 100 100 6
154 3 Lightning Strike 1 1 1000 3 50 1 5 0 75 0 0 40 100 120 -100 -45 Lightning Strike 0 100 100 6
npcchat updates / additions
3972 I can teach lots of magic.
3973 Do you want to learn Plasma Ball (130int) for 400k Barr
3974 You have learnt Plasma Ball (Blue)
4012 Do you want to learn Ice Explosion (140int) for 500k Barr
4013 You have learnt Ice Explosion (White)
4014 Do you want to learn Lightning Strike (140int) for 500k Barr
4015 You have learnt Lightning Strike (Black)
4016 Do you want to learn Fire Storm (160int) for 500k Barr
4017 You have learnt Fire Storm (Blue)
NPC
4256 142 0 0 0 0 Fred The Mage 0 0 0 9 11 0 7 7 2 0 0 0 47 1 0 0 0 0 0 0 0 -1 0 -1 0 -1 10 10 1 20000 5000 0 0 0 100 0 0 0 -1 0 -1 0 -1 0 1
monsterset
4121 12 441 497 441 497 1 4256 0 1 -1 -1 -1 -1 3972 -1 -1 2 -1 0 -1 0 -1 0 -1 0 -1 0 -1 0 -1 0 -1 0 -1 0 -1 0 -1 0 -1 0 -1 0 -1 0 -1 0 170 0 0 0
Added 29/12/08
There is actually another spell associated with spell 155 (but no F12/Magic belt Icons) but there is two animation bits missing from the original pack. Might be good to add these really into the FlameStrike spell that is bugged as attached.
Final Animation preview: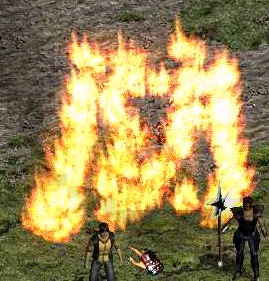 You might want to change the stats on Flamestrike and/or swap - add to an npc.
changed from white to blue, e.g:
Code: Select all

130 1 Flamestrike 1 1 1000 3 26 1 3 0 25 0 0 0 100 60 -100 100 Surround flame attack 0 100 100 6